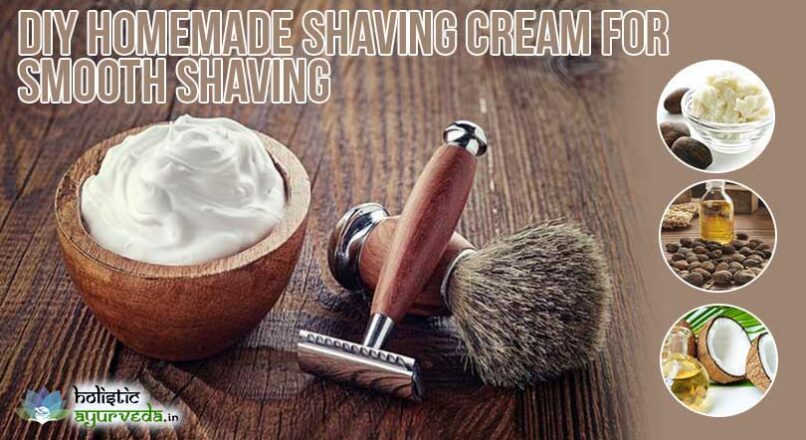 Homemade Shaving Cream Recipe
Make Your Own Moisturizing Shaving Cream at Home
Removing unwanted hair is necessary for smooth skin. But this is cumbersome and with some methods can be painful too. Many women have skin which is too sensitive for waxing and hair removing creams and form rashes after hair removal. Creams and frequent waxing can even darken the shade of skin which is unsightly and highly unpleasant. Creams contain chemicals which can be hazardous for skin and cause skin damage over the area. Homemade shaving creams are becoming popular because not only these facilitate deep shave but also protect skin from all sorts of side effects. These improve silkiness and softness of skin and make it look gorgeous after shaving.
It is not wise to ignore side effects of shaving cream because it touches our first line of defence and can affect its endurance. The irritations and chemical activities over skin can any time raise serious threat to health. There are certain types of chemicals used in the commercial creams and gels which anyone would want to avoid completely. The creams are deliberately made sweet smelling, many times cost of fragrance one pays with her health, many different types of chemicals generally untested are mixed to create that attractive aroma. These if enter human body through minor cuts and bruises which generally occur during shaving can be hazardous for health.
Apart from chemicals used to make perfumes compounds like phthalates are common in shaving creams. These have been found as potent inhibitors of certain vital processes of the body and can also interfere with hormonal secretion. Triethanolomaine is another hazardous compound which is skin and respiratory toxicant. Once this finds its way into human system can be damaging to health in various ways.
Apart from these sodium laurel sulphate and parabens are other health offenders found commonly in most of the hair removing creams, gels and shaving creams sold commercially. So it is not an exaggeration to think that shaving creams containing harsh and harmful chemicals not only harm skin but also raise a threat to health. Homemade shaving creams are away from any such risks and are highly efficient in doing their job excellently.
You may like reading:
Orange Peel Face Masks for Beautiful Skin
Homemade Strawberry Mask Recipes to Lighten Skin
Homemade Shaving Cream Recipe

Ingredients of Homemade Shaving Cream
Shea butter or Shea nut oil
Coconut oil
Essential oil
Grapeseed or olive oil
Vitamin E capsules
Baking soda
Here we will describe a step by step recipe for making shaving cream at home. This will not only guarantee removal of unwanted and unsightly hair but also health and protection from side effects. It will even promise to improve skin's texture and tone and make it much more attractive than before. Commercial shaving creams after a certain period can make skin rough and hair thicker, with every use you need to apply it in higher quantity and frequently to get smooth skin. The ingredients of homemade shaving cream ensure that not only shaving becomes easier and simpler for you but you also get better skin.
Procedure to Make Homemade Shaving Cream
To make shaving cream at home, accumulate Shea butter or Shea nut oil, coconut oil, any essential oil, grapeseed or olive oil, vitamin E capsules and baking soda, you will need these ingredients in the quantity which goes as – two-third cups of Shea butter or Shea nut oil, two tablespoons of baking soda, 10 to 12 drops of essential oil of your choice, two-third cup of coconut oil and one-fourth cup of olive or grapeseed oil and 2 capsules of vitamin E.
Melt coconut and Shea butter together, once these have melted completely add one-fourth cup of grapeseed or olive oil and stir the mixture to make it even. Now slowly add essential oil of your choice like chamomile, lavender etc. Put off the flame and let it cool down. Once the bowl has cooled down mixture will solidify. Now break-open vitamin E capsules, add the content to the mixture, add two tablespoons of baking soda and stir the mixture to mix all the ingredients well.
Use electronic blender to get a good mix. After few minutes you will get fluffy and smooth shaving cream. Apply generously over parts you want to be free from hair. Once you are done rinse it off thoroughly. You can apply these even over the areas which have delicate skin without any worries. If you want it to be non-smelly skip baking soda.
All the ingredients used in this shaving cream are organic and you need to make sure that you buy these from trustworthy place which sells organic products only. This cream causes no rashes, irritation and even dry or rough skin. It is fit to be used even by those who have sensitive skin. If you are using essential oil in the cream just check for the sensitivity and use only that essential oil which is harmless for your skin. You will have minimal occurrence of razor burns and will get nice, smooth and deep shave each time.
You may like reading:
Natural Homemade Face Mask For Glowing Skin
Homemade Apple Night Cream Recipe To Keep Skin Healthy
You May Like…