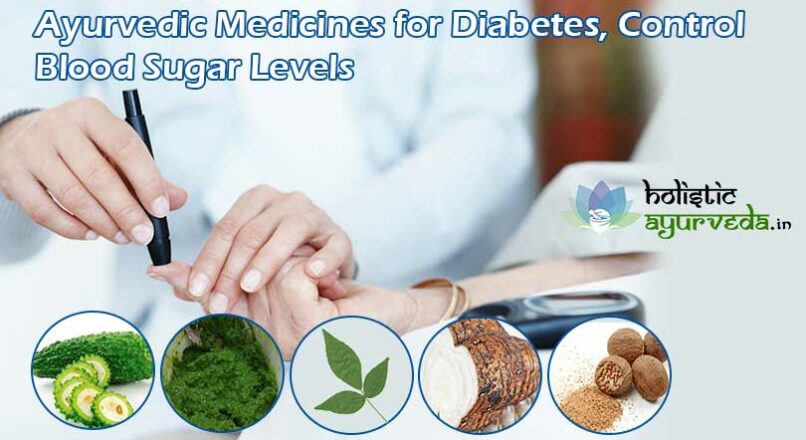 Ayurvedic Medicines for Diabetes
Herbal Ayurvedic Medicines for Diabetes
Diabetes or diabetes mellitus is a state of high blood sugar. One must understand the internal body functionality about what happens after one eats anything. Whatever we eat is energy (glucose) that after going to stomach reaches the blood so that it could be utilized further for adequate production. For this the energy must reach every cell and tissue. This is carried by a hormone known as insulin. The insulin is generated from the beta cells which are present inside the pancreas. In the layman language one may understand that insulin is the gateway of the glucose that lets it reach the cells and tissues for energy utilization.
In the case of diabetes, there is a problem in insulin generation and so the sugar never reaches the cell units. This results in feeling weak, fatigued and tired. Also frequent urination, frequent hunger, slow blood clotting, eye blurredness, sudden weight loss, etc. are the additional symptoms. Diabetes occurs due to genetics, refined food consumption for regular intervals, obesity, lack of exercise, etc. There also occurs a condition known as autoimmune disorder due to unknown reasons in which the beta cells get destroyed by the immune system.
Mainly diabetes is divided into three categories, namely Type 1, Type 2 and Gestational diabetes. In Type 1 diabetes, the insulin is not produced at all. The diabetes of type 1 occurs usually during childhood, teenage or at a very young age. Such individuals have to take artificial insulin for the rest of their life. In the case of diabetes of type 2, people crossing 40 years of age likely develop this. This is not a hard and fast rule and anybody of any age can experience any kind of diabetes. Some people develop both type 1 and type 2 diabetes. Gestational diabetes occurs to pregnant women and fades away after the delivery. If this issue is not controlled problems like stillbirth may occur. Also babies are born with extreme body weight like 7 to 8 pounds.
Ayurvedic Remedies for Diabetes
Diabetes is a chronic condition and it has no permanent cure. But proper routine can control this ailment so that a person leads a healthy life. There are many medications available in the market but along with that if one takes ayurvedic medicines to control blood sugar levels then the results would be even greater. We would like to discuss some of them.
Karela (bitter gourd)

It contains three active substances that have anti-diabetic properties like charantin, vicine and polypeptide-p. Charantin has blood-glucose-lowering effect on the body. Polypeptide-p is a compound which is similar to insulin. Overall karela is extremely good when it comes to ayurvedic treatment for diabetes. This is why it is one of the main ingredients of many ayurvedic medicines for diabetes.
Neem
It has antibacterial, anti-fungal and anti-microbial properties. It naturally controls the blood sugar levels and reduces the requirement of insulin by 50%.
Gurmar
It not only reduces the blood glucose levels but also slows down the conversion of sugar to fat. This then could be burned off easily if a person exercises. Also it controls the taste buds receptors so that a person doesn't crave for more sugar. This is the major reason why this very herb can be used in making ayurvedic medicines for diabetes.
Jamun (black plum)

This berry is seasonal and is not available the whole year. It prevents converting the starch into sugar, rather converts it into useful energy. It also controls the aftereffects of diabetes like frequent urination and thirst.
Methi (fenugreek)
The seeds are high in soluble fiber that slows down digestion and carbohydrates absorption which in turn lowers blood sugar. These improve metabolic symptoms associated with diabetes of type 1 and type 2 both. It also lowers the bad cholesterol.
Haldi (turmeric)

It contains curcumin that regulates the insulin levels. It is anti-microbial, antioxidant and anti-glycaemic in nature. It boosts the immunity, prevents the insulin resistance, infections and inflammation, and reduces body fats and stress. Haldi is therefore key ingredient in most ayurvedic medicines for diabetes.
What about blending all these ingredients along with more potent composition to make ayurvedic remedies for diabetes like Diabkil capsules? If the proportion is maintained then this idea is really great which is why ayurvedic remedies for diabetes are introduced. Diabkil capsules are the finest herbal remedies for diabetes since these contain extremely pure herbs. We list them all below.
Ingredients of Diabkil Capsules
Momordica Charantia (Karela), Azadirachta Indica (Neem), Gymnema Sylvestre (Gurmar), Eugenia Jambolana (Jamun), Trigonella Foenum-Graecum (Methi), Curcuma Longa (Haldi), Aegle Marmelos (Bilvapatra), Sodium Bicarbonate (Sajji Khar), Pueraria Tuberose (Vidarikand), Asphaltum Punjabinum (Shudh Shilajit), Terminalia Arjuna (Arjun), Pongamia Glabra (Baghaphal), Tinospora Cordifolia (Giloy), Coccinia Indica (Bimba Phal), Cassia Occidentalis (Kasondi), Cassia Auriculata (Tarvar), Myristica Fragrans (Jaiphal), Citrullus Colocynthis (Indrayan), Vincarosea (Sadaphool), Piper Nigrum (Kali Mirch), Extractum Berberis (Rasont), Pithecellobium Bigeminum (Kachlora), Asparagus Adscendens (Safed Musli)
The reason why Diabkil capsules are known to be powerful ayurvedic remedies for diabetes is the presence of potent herbs in their pure form as listed above. Their regular intake for 3 to 4 months generates prominent results and so diabetic patients need not induce artificial insulin in high amounts. Take one to two capsules of these ayurvedic remedies to control blood sugar levels with water twice daily before meals. Do not halt the course before recommended duration. There are absolutely no side effects or withdrawal effects while take Diabkil capsules.
Buy Diabkil capsules to control blood sugar levels naturally.
You May Like…