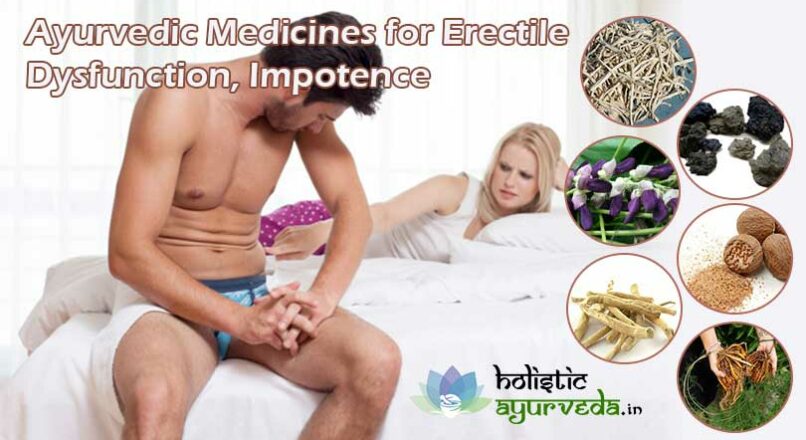 Ayurvedic Medicines for Erectile Dysfunction
Herbal Ayurvedic Medicines for Erectile Dysfunction
Erectile dysfunction usually abbreviated as ED, and can also be interchangeably called by the name impotence or sexual dysfunctional, is a condition in which a male is not able to achieve a hard erection and even if he does, that doesn't last for too long. This is primarily because of the poor blood circulation during the time of arousal that is supposed to fill the male genital and make it hard. While being aroused the nerves send the brain some sort of signals so that it redirects the blood to the male organ. If this fails, it signifies that the nerves probably aren't that much active.
Men who are more than 40 years of age usually face this problem but nowadays youngsters also witness this because of poor quality of life they currently lead such as smoking and drinking habit, consuming junk food regularly, having sweet treats, aerated and caffeinated drinks every day.
People go for allopathic medicines or painful surgeries that may or may not deliver the results. Such steps is a huge risk since there could occur any kind side effect. Moreover, one cannot stop such prescribed courses since the stoppage would lead to withdrawal effects. The person then gets trapped into never-ending loop.
Ayurvedic Remedies for Erectile Dysfunction or Impotence
Ayurvedic medicines for erectile dysfunction are not like that. This is because these are trustworthy means as ayurvedic treatment for impotence since ancient era. These ayurvedic medicines for impotence were the only hope for the ancestors back then as they are known for providing long term results. We would hence like to list some of the herbs that naturally treat the issue. Some of them are below.
Musli Safed

It is a renowned aphrodisiac and is known to provide sexual performance in an individual. It is also known to treat ED entirely naturally. It is an immunity booster, vitalizer and health giving tonic. This is the reason why it has been in use in most ayurvedic medicines for erectile dysfunction.
Kavach Beej
It improves the libido in men. It prevents the prolactin hormone from pituitary gland which is mainly responsible for causing ED. L-dopa is the substance which is released from this herb and gets combined with dopamine in order to stop prolactin hormone release. It also improves the generation of testosterone hormone, supports healthy sex hormone production and increases the fertility.
Shudh Shilajit

Shilajit is considered as an excellent anti-aging herb since ancient era where Indian yogis used to consume it for their health rejuvenation. It is found in the Himalayan region that contains more than 85 minerals in bio-available form. It supports fertility in men which means that its regular intake increases sperm count. It also improves the release of testosterone hormone. High level of testosterone improves muscle tissues, keeps fats at bay and enhances the mood and thinking.
Ashwagandha
The roots and berries of this plant are used to prepare so many varieties of medications, especially ayurvedic medicines for erectile dysfunction. This is because it has many benefits. It increases the libido and fertility. It increases the sperm quality with time. As its name suggests a person consuming this herb gains power like a horse and so his strength and stamina are immensely magnified.
Jaiphal
It cures the problem of diminished libido and so its regular consumption can spice up the sexual life with intense mood and arousal. It is also known for its male potency increasing properties and therefore a very useful herb in so many ayurvedic remedies for erectile dysfunction.
Shatavari

It increases testosterone hormone, semen volume and erection hardness score among males who deal with such issues for regular interval. It is an age-old remedy being a natural aphrodisiac, which prolongs intense arousals and hard erections that is why used in many popular herbal ayurvedic medicines for impotence.
There are so many ayurvedic remedies for erectile dysfunction in the market but the only trustworthy means are Booster capsules. The reason behind its popularity is the presence of potent composition of the herbs as discussed before. We list them all along with so many other supporting herbs that make the working of Booster capsules such a great ayurvedic treatment for impotence.
Ingredients of Booster Capsules
Hypoxis Orchioides (Musli Safed), Mucuna Pruriens (Kavach Beej), Saffron (Kesar), Asphaltum Punjabinum (Shudh Shilajit), Withania Somnifera (Ashwagandha), Myristica Officinalis (Jaiphal), Asparagus Racemosus (Shatavari), Zingiber Officinale (Soanth), Phyllanthus Emblica (Amla), Cuminum Cyminum (Jeera), Solanum Nigrum Linn (Makoy), Plumbago Zeylanica (Chitrak), Caryophyllus Aromaticus (Long), Piper Longum (Pipal), Holarrhena Antidysenterica (Kudachhal), Ferrum (Lauh Bhasma), Terminalia Arjuna (Arjun), Glycyrrhiza Glabra (Mulethi), Stannum Oxide (Vang Bhasma), Tamarix Articulata (Jhau), Gold Thread (Swarnapatra), Eclipta Alba Hassk (Bhringraj), Musk Mallow (Kasturidana), Terminalia Chebula (Haritki), Evolvulus Alsinoides (Shankhpuspi)
Take 1 capsule or 2 capsules of Booster twice in a day with warm milk, plain water or citrus fruit juice and keep this in continuous manner for 3 to 4 months. One must also use Mast Mood oil for more benefits. Simply take a few drops of this oil and message gently onto your penile shaft until it gets dried over there. Do this two times in a day and follow this course too for the same time period as Booster ayurvedic remedies for erectile dysfunction. The results depend on the current health condition and the body's ability for recovery but once the outcomes show up that will be for long run.
Buy Booster Herbal Ayurvedic Remedies for Erectile Dysfunction and get rid of impotence and erection problems naturally.
You May Like…