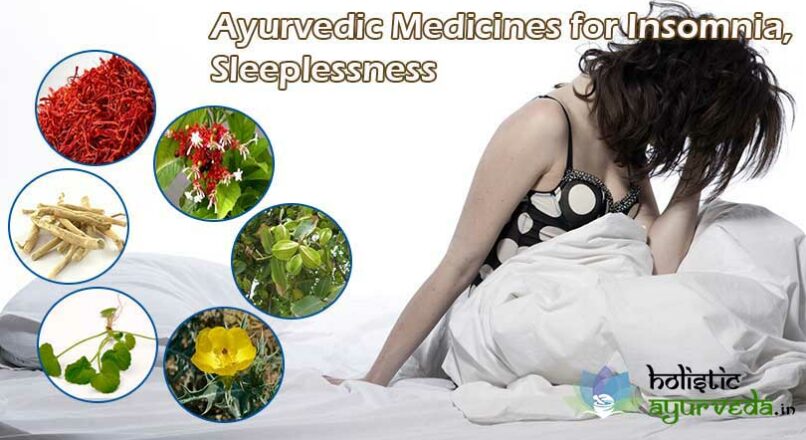 Ayurvedic Medicines for Insomnia
Herbal Ayurvedic Medicines for Insomnia
Insomnia or sleeplessness or sleep disorder all are used interchangeably to represent the meaning of inconsistent sleep that can occur to anyone. In such a condition, an individual finds difficult to get the sleep and when he or she does it, the condition doesn't last for long and they may wake in the middle of night once or several times. Many people wake up early in the morning even if they sleep late at nights.
The main reasons behind insomnia are stress, anxiety and depression. A person is occupied with work whole day. Meeting the deadlines at workplace, getting promotion, office politics and personal issues like loss of a loved one, divorce, relationship failures, etc. are a few reasons that most people face. Also some illness might occur that requires the bed rest whole day or post surgery phase in which the patient feels extreme pain, brings sleeplessness. Consumption of junk foods, alcohol, drugs, caffeinated or aerated drinks, etc. brings hormonal fluctuations to the body that ultimately contribute in sleep disorder.
Ayurvedic Remedies for Insomnia or Sleeplessness
People get habitual of sleeping pills without which they cannot imagine taking a nap. If they deal with psychological issues as well like stress or depression the amount of such pills increase unconsciously and their high dosage may even bring death. We therefore recommend trusting only ayurvedic medicines for insomnia. This is because only ayurvedic treatment for insomnia can naturally calm down the mind and provide peaceful sleep in a very short span of time. The ayurvedic medicines to sleeplessness contain some potent herbs that are renowned since ancient ages, some of which we list below.
Brahmi

Dated back as long as 500 B.C. this herb is extremely renowned for being a potent nerve tonic that improves mental health drastically. It relaxes the mind which is why a great herb for sleeplessness.
Kesar
It is well known for its aromatic behavior. It helps calming down the mind and hence a good herbal remedy for anxiety, stress and depression. Since it improves the mental state of a person it provides sound and peaceful sleep. It is also good for hypertension patients.
Shankhpushpi
It is a potent brain tonic that boosts the memory, prevents early aging, reduces mental fatigue and cures insomnia problem. It also regulates the blood cholesterol.
Sarpgandha
It is a natural tranquilizer which is why a potent herb for insomnia. Other than that it also cures the bites and stings of various venomous and non-venomous insects and reptiles due to the presence of a compound known as reserpine.
Chandan

It has got healing powers. It can bring nervousness and restlessness under control. It can treat headaches as well. It therefore is a potent insomnia herb.
Arjun
It regulates the heart functioning and blood pressure. It lowers the bad cholesterol and it also minimizes the chronic stress and cures insomnia to a great extent.
Ashwagandha
It has got strong antioxidant and anti-microbial properties. It cuts down the stress and promotes natural relaxation. It also increases energy levels and reduces fatigue. It is a proven cure for stress and anxiety induced depression. It is also well known for curing insomnia.
Bhangraya
It relaxes the nerves and treats all sorts of nerve disorders. Mental disorders like depression, stress and anxiety also are well treated using this herb. It also cures headaches and hypertension. It treats the problem of sleeplessness naturally as well.
All the herbs together along with some more supporting herbs if are blended in a correct ratio can work wonders. Therefore we have introduced Aaram capsules being the best ayurvedic remedies for insomnia. Following are the ingredients of this ayurvedic treatment for insomnia.
Ingredients of Aaram Capsules
Bacopa Monnieri (Brahmi), Saffron (Kesar), Convolvulus Pluricaulis (Shankhpushpi), Rauwolfia Serpentina (Sarpgandha), Santalum Album (Chandan), Terminalia Arjuna (Arjun), Withania Somnifera (Ashwagandha), Eclipta Alba (Bhangraya), Valeriana Wallichii (Tagara), Serpentine (Jahermora), Hibiscus Abelmoschus (Lata Kasturi), Onosma Bracteatum (Gajwan), Hyoscyamus Niger (Ajwainkhurashani), Nardostachys Jatamansi (Jatamansi), Pinctada Margaritifera (Moti Bhasma), Brunella Vulgaris (Ustaykhaddus)
Regular consumption of Aaram ayurvedic remedies for insomnia for at least 3 months without break brings fruitful results without causing any negative side effects. Take one capsule or two capsules of Aaram twice daily with water. An individual may stop the course anytime if he or she feels their problem is rectified and there will be no withdrawal effects as allopathic medicines do. This means that one does not have to take these ayurvedic remedies for insomnia for their whole life. These herbal ayurvedic medicines for insomnia assure long term effects.
Buy Aaram Herbal Ayurvedic Remedies for Insomnia and relieve sleeplessness problem naturally.
You May Like…