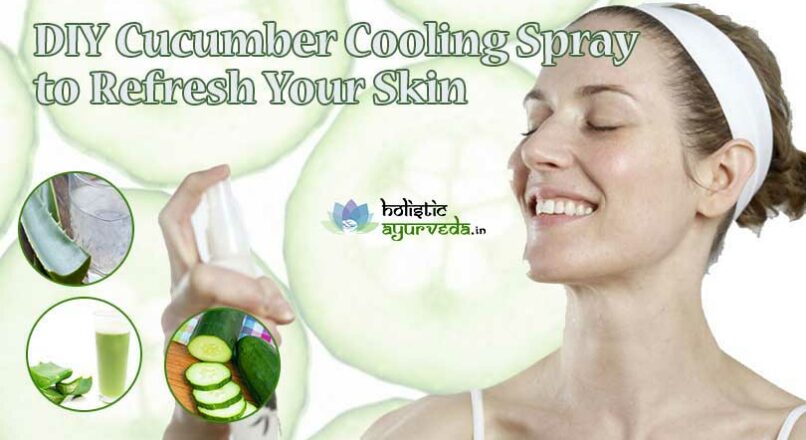 DIY Homemade Cucumber Cooling Spray to Refresh Your Skin

Cucumber is used in treating skin in numerous ways. Its paste, juice and pieces are used to prepare face wash, face packs etc. to cleanse skin and open-up pores which get blocked due to dust, oil, sebum etc. Cucumber possesses properties which are excellent for dissolving melanin deposition at particular part of skin or over entire skin. Property of cucumber to eliminate melanin deposition makes it excellent natural agent for glowing skin. The juice of this vegetable is suitable to all types of skin, in cases of dry skin it can be used with any natural moisturizer to prevent skin from drying too much. It is also natural cleanser.

It has anti-bacterial and anti-fungal properties which make it good remedy for skin conditions like acne, eczema, etc. cucumber cooling spray during the day can keep a person look fresh as if he or she has just come out of bath. It is safe even if used few times every day regularly and in today's world when on step outdoors brings loads of pollutants and dust over face skin it is quite handy way to stay fresh and maintain healthy skin. There are readymade cucumber cooling spray available in the market, but their quality and safety is in question, if preservatives or artificial agents have been added these products do not remain safe for all types of skin and regular use. It is better to have homemade refreshing cooling spray to protect skin from damages and side effects of readymade cosmetic products.

The effect of weather on skin is unavoidable. Even if you have normal skin it can be oily in summers due to more sweating and little drier in winters due to rapid loss of moisture. Similarly rainy season has its own challenges to keep skin fresh and plump. Cucumber cooling spray works in all season, it cuts off the layer of sweat, oil and dust which gets accumulated over skin and make it appear darker and dull, it also helps in maintaining proper hydration during winters, and its anti-bacterial and anti-acne properties keep skin protected during rainy season. Here you can find a perfect, simple and easy recipe to for homemade refreshing cooling spray.

You may like reading:

Orange Peel Face Masks for Beautiful Skin
Homemade Strawberry Mask Recipes to Lighten Skin
Homemade Refreshing Cucumber Cooling Spray

Cucumber
Witch hazel
Aloe Vera
To make cucumber spray you will need a spray bottle at least of size which can contain sufficient amount of content for whole day, because you cannot make spray few times in the day. Take small sized cucumber, one teaspoon each of witch hazel and Aloe Vera and 1/3 cup of distilled water. Peel off cucumber and cut it into fine pieces. Put it in a blender and extract the juice out, collect the juice and pass it through a cheese-cloth to make it lighter as much as possible and remove even fine threads and chunks of veggie from it. Add all the remaining ingredients, witch hazel, distilled water and Aloe Vera and put entire mixture in the spray bottle. Shake well to mix them completely and you have homemade refreshing cooling spray to stay bath-fresh all day long.
The best way to use this cucumber cooling spray, first wash the face with water and wipe it dry, spray cucumber skin freshening liquid evenly all over the face and let it stay so that skin can absorb it as much as possible. Wipe off with damp cloth and enjoy the freshness of skin. You can repeat as many times you want and each time you come out of Sun or from outside. If you feel skin tightness you can keep some Aloe Vera gel along with spray to apply a thin layer of it.
Recipe for Spray to Keep Skin Fresh
Green Tea
Half cup of the tea
Tea tree essential oil
Many young girls and even adult women face occasional or regular acne outbreak. Here is recipe for a spray which not only helps in keeping skin fresh and healthy but also suppresses pimples and other skin conditions efficiently. It is very simple and can be made easily. Take a cup of water and keep it to boil, prepare a strong cup of green tea. Later allow it to cool down and collect half cup of the tea in another cup, add 4 drops of tea tree essential oil and fill a glass spray bottle with it.
Homemade Spray to Keep Skin Glowing

Organic rose water
Vitamin E oil
Ylang ylang essential oil
Sprinkle it few times during the day to prevent bacterial growth of over skin and eliminate dead cells and debris efficiently. These benefits prevent formation of pimples and other kinds of skin infections. But if you are not so much concerned about acne and just need a refreshing spray which protect and improve looks of skin you can try this recipe. Take half cup of organic rose water and add few drops of vitamin E oil, add 3 drops of ylang ylang essential oil and put entire mixture in a spray bottle. If you do not trust ready made rose water you can prepare it at home. This is excellent spray to keep skin glowing, fresh and lively all day long.
You may like reading:
Natural Homemade Face Mask For Glowing Skin
Homemade Goat Milk Soap For Softer And Smoother Skin
You May Like…