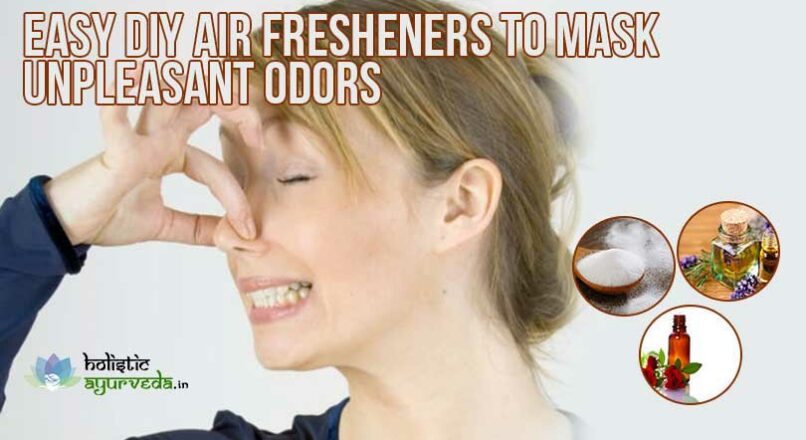 Homemade Air Fresheners Recipes
How to Make Air Fresheners Recipes at Home?
Home is supposed to be a place where mind and body gain relaxation and peace, the environment of home is such that it can relieve stress and tension and refresh a person in no time. But unwanted and highly unpleasant odours can wipe-off this calmness of homes and make people living in it frustrated. There are many reasons of foul odours other than cleanliness. Many times clean houses smell bad due to improper air-circulation, too many ACs, filth in neighbourhood and use of certain types of items which are smelly.
It is common practice to use air fresheners to mask unpleasant odours and get sweet smelling home. But not all air fresheners are effective and safe. Most of the fresheners last for a little duration and their vapours can be harmful for lymphatic system of the body. Homemade air fresheners are not only safe but also effective and provide clean air to breath for a longer duration after use.
You may like reading:
Causes of Liver Problems and Herbal Liver Cleanser Pills
Ayurvedic Medicines for Liver Disorders
How Do Air Fresheners Work?
Air fresheners work in simple manner. These are sprayed and their tiny vapours get distributed in the air over a large area, these vapours bring down tiny particles and crystals of dust, pollutants, fumes and debris floating in air to ground with them freeing air from contamination. These also possess substances which are reactive in air.
The chain reaction of these substances in air allows vapours to multiply and reach farthest point in the room even those where freshener was not sprayed. So instantly in seconds one feels breathing in fresh and clean air and also senses sweet smell in it. But cheap air fresheners are not so efficient and contain ingredients which produce certain harmful gases and fumes after reacting with air to damage lymphatic system of human body over a period of time. Their fragrance also does not last for long and foul smell surges again.
Good quality air fresheners to mask unpleasant odours are expensive and most of the families would avoid using them or will use them sparingly thereby inhaling foul and contaminated air during most part of the day.
Homemade air fresheners are better than the best commercially designed air fresheners in quality and are 100% safe for respiratory and lymphatic system of human body. These are almost inexpensive compared to the cost of good quality branded air fresheners and can be used regularly and generously to breath fresh air.
Here is easy to follow recipe for homemade air fresheners which will provide reliable, sweet smelling and efficient air freshener at very low cost.
Homemade Air Freshener Recipe With Baking Soda

There are few harmless and effective recipes to make air fresheners to mask unpleasant odours. The simplest recipe is by using baking soda.
Steps to Make Natural Air Freshener
Take one tablespoon of baking soda and a glass of water.
If you wish you can also take any essential oil of your choice. Now add baking soda to water and few drops of essential oil.
Stir the mixture for few minutes and when soda has dissolved completely store it in a spray bottle.
Fill the bottle till top and use it as and when you feel need to.
It is cheap and can be used liberally if you have children or pets at home which generally cause unpleasant odours.
Homemade Air Freshener Recipe Without Baking Soda

Another recipe for homemade air freshener is little different than the first one. For this you will need ingredients like lemon, rosemary, water, one bowl and vanilla extract.
Steps to Make Air Freshener at Home
Take a bowl which can contain at least a litre of water. Fill it two-third and add few sprogs of rosemary, slices of lemon and half tablespoon of vanilla extract.
Let the mixture simmer whole day, the fumes of this concoction will keep your home filled with sweet smell and refreshing aroma. You can use this mixture for two days.
Side Effects of Commercial Air Fresheners
Commercial air fresheners are hazardous for health as these contain following substances which are carcinogens, toxins and allergens capable of having devastating effects on health. These air fresheners are loaded with compounds like Acetaldehyde, Propylene Glycol, 1.3-Dichloro-2-propanol, Limonene, Methyl pyrrolidone, Alcohol, denatured, Butylphenyl methylpropional, Ethyl acetate and Benzaldehyde.
These compounds can affect lymphatic system, liver, immune system and even disturb hormonal balance to have severe consequences on reproductive system of men and women. Some of the carcinogens in this lot are potent enough to increase chances of cancer in human beings. The fragrance which is most catchy part of these fresheners is full of untested chemicals in high numbers.
In general belief nearly 500 different chemicals and acids are mixed together to provide that special captivating fragrance to these air fresheners. The chemicals and acids mixed to form the aroma are capable of causing a long list of health concerns like headache to depression.
Homemade versions of air fresheners are free of all these hazardous ingredients and still provide sweet smell and clean air to fresh breath. If you have children or old members in the family use of commercial air fresheners is something you need to take care of as it can easily affect their health.
You May Like…