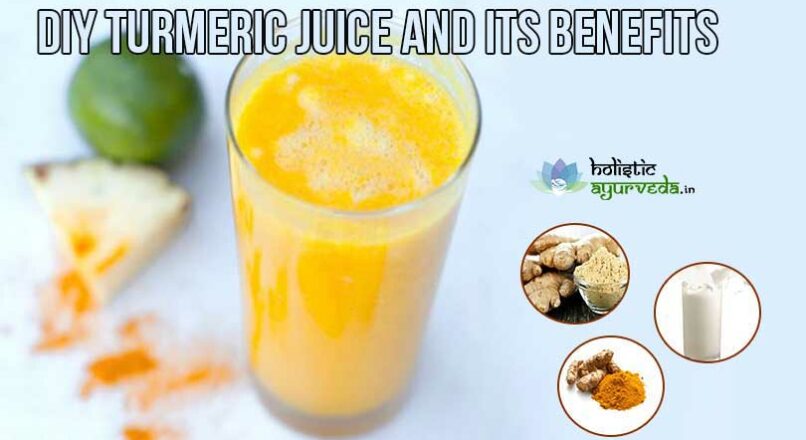 Easy Homemade Turmeric Juice Recipe
How to Make Turmeric Juice at Home?
Turmeric is also rhizome like ginger and it also appears similar to ginger with brown peel from outside, but from inside both of these has different hues, turmeric is deep orange in color compared to creamy or yellowish white of ginger. Turmeric is also famous as the most beneficial spice for health and is used in numerous ayurvedic treatments since ages.
Regular consumption of turmeric can protect health from minor to deadly diseases and provide much improved looks as well. It is beneficial to use turmeric in daily diet as spice but to get faster benefits of this spice drinking turmeric juice is better option. Some of the major benefits of turmeric juice are as follows.
You may like reading:
Health Benefits of Fresh Ginger Carrot Juice
Homemade Healthy Juices and Smoothies For Lowering Cholesterol
Health Benefits of Turmeric Juice
Prevent Cancer
It is effective in preventing cancer. Curcumin present in turmeric is powerful agent to inhibit free-radicals and reduces damage to cellular membranes and DNA. Free-radicals, membrane damage of cells and DNA damage are major reasons for the most types of cancer. It has been found as effective preventive and even curative remedy for colon, breast, prostate, lung, liver, and oral cancer.
Prevent Alzheimer's Disease
Effective prevention of Alzheimer's disease is another benefit of turmeric juice. Turmeric possesses properties which inhibit pathway of CO-X2 enzyme. This enzyme is responsible for causing inflammation in brain which leads to neural inflammation and damages central nervous system. Regular intake of turmeric juice also increases flow of oxygen towards brain to improve cellular health and functions.
Provide Relief from Arthritis and Joint Pain
Arthritic pain relief and curbing inflammation in joint organs are other benefits of turmeric juice. This spice possesses strong anti-inflammatory properties which diffuse inflammation in joint organs and enhance flow of blood to promote smooth movement without any pain and stiffness. Drinking some turmeric juice in the morning on an empty stomach is highly beneficial for people suffering with any form of arthritis. It also relieves redness and heals muscular injuries, sprains and cramps to keep joints high in endurance.
Lower Cholesterol Level and Prevent Heart Disease
Turmeric has properties to lower hazardous LDL in body and blood. By lowering level of harmful cholesterol it prevents blockages in arteries and reduces pressure on heart. This property of turmeric makes it useful for patients of high blood pressure and minimizes chances of heart attack, stroke etc., and use of turmeric control and regulates clot formation. It prevents clumping of platelets which contribute in clot formation.
Atherosclerosis is another problem which is major causes of heart disease. The arterial plaque which gets deposited in arteries causes hardening of arteries and increases pressure on heart by restricting flow of blood. Intake of turmeric juice keeps arteries clear and healthy and maintains healthy cardio system.
Control Diabetes and Blood Sugar
High blood sugar or diabetes is the most common disorder these days which is affecting people from all age-groups. Use of turmeric juice is very beneficial for people suffering with type 1 or type 2 diabetes. Turmeric is capable remedy to improve pancreatic functions. It helps in release of high quality insulin in optimum amount which makes it useful remedy for people with type 1 and type 2 diabetes. It reduces intensity of insulin resistance and low insulin level both in people from all age-groups.
Heal Wounds and Injuries
Turmeric is prolific in treating wounds and injuries whether external or internal. Simple application of turmeric powder can stop bleeding due to cuts, injuries, puncture etc. Consumption of turmeric in juice form speeds-up healing process by controlling inflammation, proper clot formation and generation of new cells which close wound faster. It also helps in treating internal bleeding and injuries and repels bacterial fungi and other infectious agents and germs efficiently. It is powerful anti-bacterial and antiseptic.
Treat Skin Disorders and Improve Natural Glow
Use of turmeric is reliable and trusted as external or internal remedy for beautiful skin. It treats skin problems like acne, psoriasis, eczema and others efficiently. It promotes and maintains healthy flow of blood in skin capillaries, promotes generation of cells to keep skin healthy and tight, and also fights back bacteria which trigger acne outbreak and other skin conditions. It improves radiance and glow of skin and lightens marks, scars and dark spots.
Easy Homemade Turmeric Juice Recipe

We are providing you a very simple and easy to use turmeric juice recipe. There can be different turmeric juice recipes but here we describe the simplest and most beneficial one.
Steps to Make Turmeric Juice at Home
Take raw turmeric in sufficient quantity and peel it off.
Cut it into fine pieces and run it through processor, collect the juice and also pulp, run the used pulp again couple of times to extract entire juice out rhizome. You have turmeric juice ready to be used.
Collect 2 tablespoons of turmeric juice and add it to a bowl. Mix juice of one or two lemons as per your taste.
You can grate some pieces of ginger after peeling them off and collect ginger juice about a tablespoon full, add this to the mixture, if you do not have ginger do not worry it is not necessary though.
Add two tablespoons of honey and stir the mixture to mix all the ingredients well. Add 2 cups of water and put the juice in refrigerator to chill.
You can add coriander or mint leaves to improve taste and benefits of the juice.
This is simple turmeric juice recipe which provides a glass of health and fitness to people of all ages.
You may like reading:
Homemade Turmeric Face Mask Recipe
Homemade Spiced Turmeric Milk Recipes
You May Like…