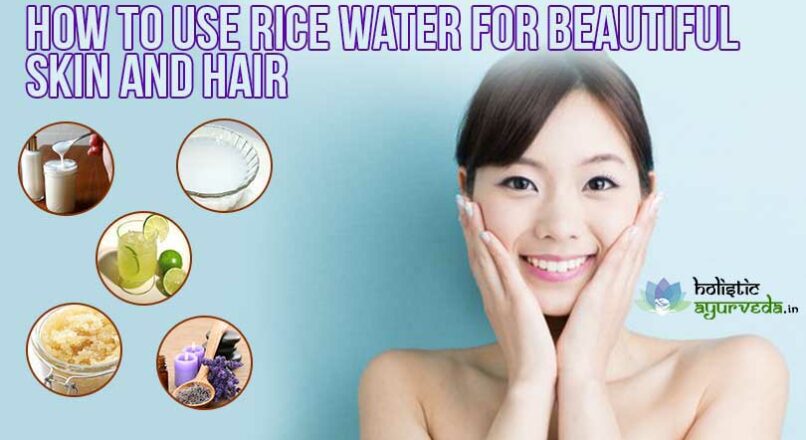 Rice Water for Beautiful Hair and Skin
Homemade Rice Water for Beautiful Hair and Skin
Use of rice water for skin and hair is not new, it has been used since ancient times and many legends are famous about efficacy of rice water for improving skin and hair condition, even in modern time's people can use immense benefits of rice water to gain age-defying beautiful hair and skin. Rice water is rich source of many nutrients which are not available through any other source. Regular use of rice water helps in eliminating disorders and deficiencies which harm texture and shine and endurance of hair and skin. Use of rice water is not cumbersome and can be managed easily few times in a week even in busy daily routine.
Rice water contains inositol which is a type of carbohydrate. This has effects on hair which make them silky and smooth and also supplement amino acids which strengthen hair from root. These ingredients make rice water for beautiful skin and hair very effective and reliable. Use of rice water maintains sheen and elasticity of hair. This prevents breakage, split ends and prevent hair from falling-off. The nutrients present in the water are beneficial for scalp too. So new strands are well nourished and maintain their growth to become long and thick. These also have longer life span to keep hair density higher for a longer period of time.
Skin bears all the stress as it is first line of body's defence. Harsh weather, dry and hot air, water, soaps and chemicals all cause severe and regular strain over skin and harm its health, endurance and strength to make it weak. Skin is attacked thousands of time by bacterial viruses and fungi during the day; it repels all the microorganisms and protects inner organs. But skin is what determines beauty and charm of one's personality. Proper health, softness and glow, and shine of skin are of immense emotional value particularly for women. Spots, wrinkles, lines, roughness and dullness can make a person look sick and old.
You may like reading:
Orange Peel Face Masks for Beautiful Skin
Homemade Strawberry Mask Recipes to Lighten Skin
Rice Water for Beautiful Hair and Skin
Experts recommend use of rice water for beautiful hair and skin as it works for people who are facing skin blemishes and are low on confidence due to poor appearance of skin. Rice water contains antioxidants which delay process of skin aging. It possesses properties to enhance flow of blood in skin and hair improve cell generation, people suffering with dark spots or suntans gain evenly toned skin as it dissolve accumulation of melanin, it is also natural moisturizer and keeps skin soft, hydrated and smooth.
Rice water is used in two ways. Many people use it fresh within couple of hours of use but it is also used after fermentation. The fermentation can bring drastic changes in properties and can make it even more beneficial for hair and skin both. Fermented rice water contains minerals, antioxidants, B vitamins and vitamin E in abundance. It also contains traces of pitera. Recent researches have suggested that this compound is powerful anti-aging and generates skin cells to make skin healthy, wrinkle-free and tighter. Fermented rice water is sour in taste as it achieves higher acidic properties. Acidic nature of this water makes it very effective cleanser which not only cures but protects skin from stressors.
White or Brown Rice
Here is how you can use rice water for hair and skin. You can prepare rice water by boiling half cup of white or brown rice with 2 to 3 cups of water. Let the mixture boil till water turns cloudy, remove the bowl from burner and strain, collect the water and let it cool down. You can use it right now or allow it ferment. For fermented rice water, cover the bowl and leave it for 24 hours at least, it will turn sour in taste. Before use give it a boil again to stop fermentation and leave it to cool down. Now rice water is ready to be used. You can use it as hair rinse. Shampoo your hair and rinse off shampoo completely from hair and scalp. Pour over damp hair and soak scalp and hair completely with it, let it stay for 4 to 5 minutes and wash off with plain water.
Rice Water, Lemon Juice and Lavender Essential Oil
You can use it as face or body wash by adding lemon juice and lavender essential oil. Soap your body and rinse it off completely now massage entire body with the mixture and rinse off with plain water after few minutes. You can collect the fermented rice water in an airtight container and use it as facial cleanser. Just dab a cotton ball and clean entire face leave it on for 10 minutes and wash off with plain water. The leftover rice is not wasted. You can use them as facial scrub. Grind the rice coarsely and massage face with cooked fine pieces. Leave for 10 minutes and wash off this will cleanse skin deeply and also nourish the cells to improve its glow and texture.
You may like reading:
Homemade Papaya Hair Mask Recipe
Homemade Onion Juice and Honey Hair Loss Treatment
You May Like…