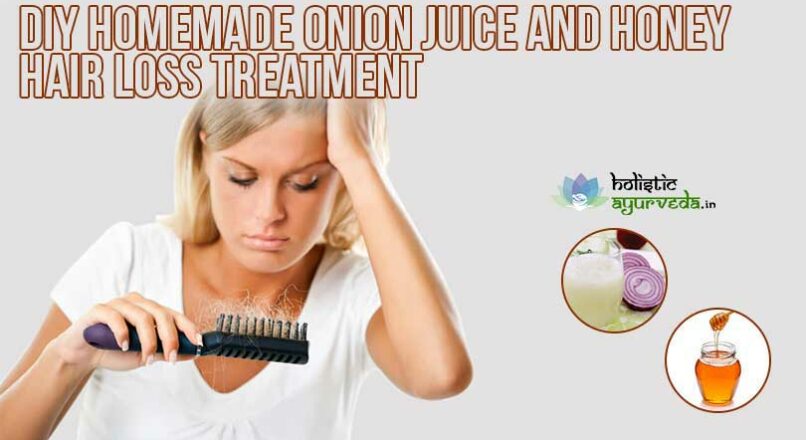 Homemade Onion Juice and Honey Hair Loss Treatment
Natural Homemade Onion Juice and Honey Hair Loss Treatment
Onion juice is recommended by many experts to cover bald patches on head. This juice has potency to regrow hair over bald areas by stimulating hair follicles and clearing them from blockages. Onion is rich source of sulphur, the compound required by the scalp to produce keratin which promotes health of hair and their life span. Sulphur present in onion juice is in most suitable form to be utilized by the body and is majorly responsible for promoting hair growth. It stimulates hair follicles to produce hair. People have dead or inactive hair follicles over a certain region which causes bald patches or lesser density of hair on head. Deficiencies of minerals and amino acids in the body, disorders slowing down protein metabolism or reducing protein absorption and scalp related disorder can harm hair follicles to cause lesser density of hair or bald patches.
For more on hair care, check out:
Homemade Papaya Hair Mask Recipe
Homemade Banana Deep Hair Conditioner Recipes for Silky Hairs
Onion Juice and Honey Hair Loss Treatment
Onion juice by supplementing sulphur and amino acids which scalp need promote hair growth. Onion has one more important feature which makes it a popular choice for hair growth despite of pungent and repelling smell, its ability to promote flow of blood in scalp. Even if there is no obstruction for hair to grow lesser blood supply can starve hair follicles and leave them incapable of producing hair, or follicles produce weak, thin and feeble hair which fall off pretty early leading to lesser hair density or bald patches. Onion juice practically covers all the aspects of hair fall and baldness problem for men and women both. Onion juice is long and popularly reckoned as homemade hair loss treatment.

Onion juice and honey for hair loss are very reliable ways. Honey is rich in antioxidants. It is also very powerful anti-bacterial and anti-fungal agent. So when it is used in combination with onion juice it not only enhance efficacy of treatment but also increase its range of benefits. Honey by supplementing antioxidants further improve flow of blood and also prevent loss of hair follicles due to oxidative stress. Free-radical floating in blood damage hair follicles and slow down or stop hair growth over certain area of scalp.
Many times it is noted that people undergoing long term treatment lose hair at rapid pace, this in many cases occur due to higher free-radical presence in the system which damages cells and tissues of the body and also constrict blood vessels. Honey being rich source of antioxidants reverses this process by inhibiting free-radicals and protects and stimulates hair follicles. Anti-microbial properties of honey cleanse scalp and make it free from conditions which block hair follicles or damage them. Onion juice and honey for hair loss are complete and in-formidable treatment for hair loss and to cover bald patches.
Onion and honey homemade hair loss treatment even blocks age-related loss of hair in men and women. Problem of receding hair line, lesser density of strands, breaking and thinning of hairs too are handled very well by this treatment. Men and women gain thicker and longer hair and also longer life span over scalp which makes their hair density higher. Onion makes keratin available in higher volume which is vital for promoting healthy hair and protecting them from ill-effects of stressors. People many times lose hair due to harsh chemicals present in shampoos they use or in water.
Chemical used to clean water are mostly harmful for hair and make them thin, rigid and feeble, thin and dry hairs break or fall-off quickly. Recurring dandruff and dryness in scalp are other reasons of hair loss. Onion juice and honey for hair loss are suitable and efficient to handle these problems too very well. We here provide a simple recipe to get homemade hair loss treatment by using onion and honey.
Take a medium-sized onion preferably red onion and peel it off. Slice it finely and add to a blender. Collect the juice of it about a tablespoon full. Add four teaspoons of honey to it and that is it. You have a mixture ready which is loaded with nutrition and essential compounds require by your scalp to produce healthy, long and thick hair at rapid pace. Apply this mixture with your finger, focus more over the areas which are losing strands quickly or do not have any strands. Massage forming circular motion to promote blood flow.
Give massage for sufficient duration and let the mixture stay over scalp overnight. Do not cover your hair, instead cover your pillow and leave hair loose whole night. In the morning wash off with natural and mild shampoo and repeat at least 1 to 2 times in a week regularly. If you are worried about smell it does not affect much and goes away after washing. Even then if you are too sensitive to onion odor you can add few drops of any essential oil when you prepare the mixture. This is safe for all types of scalp and even handles dryness or oiliness of scalp efficiently.
For more on hair care, check out:
Homemade Hibiscus Hair Masks For Beautiful and Silky Hair
Aloe Vera Masks For Skin And Hair, Homemade Aloe Vera Mask
You May Like…