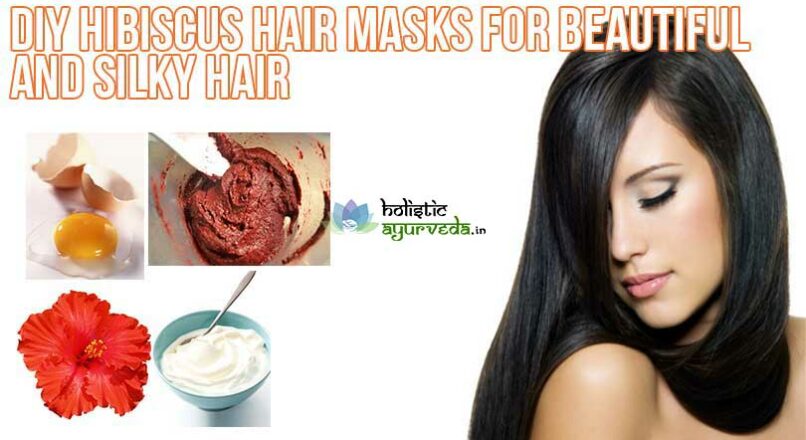 DIY Homemade Hibiscus Hair Masks For Beautiful and Silky Hair
Hibiscus Hair Masks for Beautiful and Silky Hair
Homemade hibiscus hair masks are old and trusted remedies for beautiful long and shiny hairs. It is perfectly natural in its effects which make it suitable for dry and oily hairs both. Using homemade hibiscus hair masks for beautiful hairs is not problematic, time-consuming or cumbersome, you can keep it ready for regular use and it will just take few minutes out of your days' time, the benefits of using this hair masks are far better and apparent than any other expensive cosmetic hair care oil, gel or cream. By making simple changes you can make it suitable for your type of hairs and keep them shiny, soft and nourished. Use of homemade hibiscus hair masks also arrests hair fall which is one of the commonest hair problems.
The chemicals and harmful salts present in commercially designed shampoos and conditioners play a major part in harming length and health of hairs. These may cleanse scalp and give temporary shininess to hairs but in short run cast severe damage to strand's thickness and flexibility, hairs can become brittle and prone to break and fall-off due to effects of chemical present in commercial shampoos and conditioners. Homemade hibiscus hair masks prevent hair fall and on regular use make them strong and long to withstand other stressors. You can gain higher hair density and shin long flexible hairs by regular use of this natural agent.
For more on hair care, check out:
Homemade Papaya Hair Mask Recipe
Homemade Banana Deep Hair Conditioner Recipes for Silky Hairs
Homemade Hibiscus Hair Masks Recipes

It does not take any complicated method to get a hibiscus hair mask for beautiful hairs. Pluck hibiscus flowers and separate their petals, keep them to dry in the Sun till these become crisp, grind to form a powder. Store this powder in an airtight container or a plastic bag to prevent moisture from getting in, you can make this powder in larger quantity and store it in a safe and dry place to use for couple of weeks. Now if you have oily hair you will need egg otherwise take a bowl, yoghurt, hibiscus powder and some water. Also take a brush to apply paste over hairs.
For dry hairs take powder in sufficient quantity and add yoghurt to get a thick paste. Make sure that yoghurt is thick and not loose. If you have a little runny yoghurt hand it in muslin cloth for couple of hours it will remove excess water from it and you will get a thick consistency of yoghurt. Once you have yoghurt hibiscus powder mixture ready wash your hairs with shampoo and leave them little damp after rinsing. Apply the paste even all over scalp and hairs, cover all the strands completely and leave it for 30 minutes. Wash off with plain water later you will see instant difference in shine and softness of hairs.
Hibiscus powder
Shikakai powder
Henna powder
For maintaining hairs healthy and strong you can make hibiscus hair masks in other ways as well. Add hibiscus powder and shikakai powder in equal parts and add water to form a paste. Apply this paste on regular basis few times in a week. This will nourish hairs, remove problems like dandruff or peeling of scalp and will stimulate hair growth. If you have problem of premature greying add henna powder to shikakai and hibiscus powder. First add shikakai and hibiscus powder in equal parts and later add henna powder in the quantity which equals quantity of mixture. Add water and keep this mixture overnight in an iron bowl, use it in the morning after adding some water and wash your hairs after 45 minutes. This will cover white strands, keep scalp healthy, stop excessive hair fall and over a period of time will make hairs strong, long and shiny.

Hibiscus powder
Egg white<
Yoghurt
Essential oil
If you are using just hibiscus powder with egg white or yoghurt you can add few drops of essential oil of your choice to get fragrance and to keep hairs shinier for longer duration. It is also advisable that if you want hibiscus to provide faster and better results wash your hairs with soapnut in place of commercial shampoos. Just peel off soapnuts and add their peel to liberal amount of water sufficient to wash your scalp and hairs properly. Keep the mixture overnight and use peels and water to wash your scalp and hairs. It works as natural shampoo without any chemicals and improves efficacy of hibiscus to bring better results.
For oily hairs you shall make hibiscus hair masks in different manner. Take one egg and collect its yolk in a bowl, remove the white part and add sufficient amount of powder to egg white to get a thick paste in sufficient quantity. If you have long hairs and need paste in higher quantity take two eggs and add hibiscus powder to get a thick paste. Apply after washing your hairs and rinsing off the shampoo completely, apply over damp hairs and wash off after 30 minutes with normal water. This will provide natural shine and softness to hairs and will remove excess oil and greasiness over hairs. Regular use of hibiscus masks for beautiful hairs even control excessive oiliness naturally and allow you to style hairs in whichever manner you want to.
You may like reading:
Aloe Vera Masks For Skin And Hair
Causes of Hair Loss and Herbal Hair Fall Control Oil
You May Like…