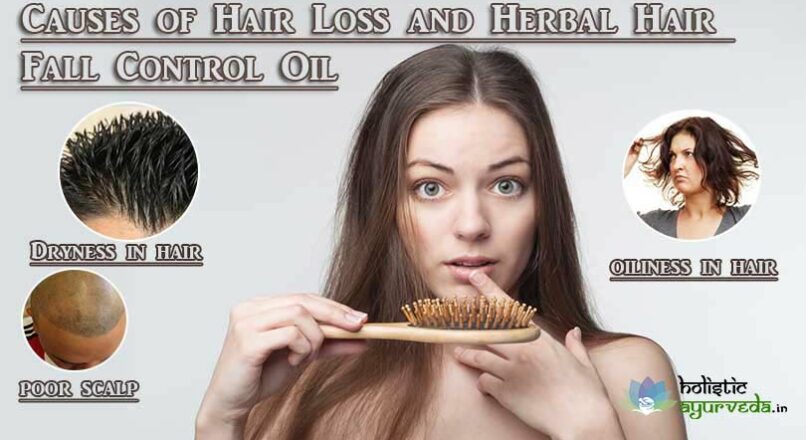 Causes of Hair Loss and Herbal Hair Fall Control Oil
Major Causes of Hair Loss
Health of hairs and their density has immense emotional value particularly for women, but even men are conscious and get worried if they find too many broken or fallen hairs in bath or comb. Hairs come out of the pores in scalp. These are produced by hair-follicles present in scalp pores and held strongly at base by scalp to prevent them from falling-off.
Hairs have a coat of keratin which protects them from external stressors and imparts them natural shade. Hairs gain nutrition throughout their span from hair-follicle at the base. Normally every person can lose up to 100 strands every day. But if this number becomes higher or production of new hairs becomes less, it causes bald spots or receding hair line. Poor scalp health is one of the major causes of hair loss.
People staying out in the open and exposing their head to sun and hot and cold air generally have dryness in their scalp and even frequent dandruff. Dryness in scalp causes lose grip over hair base and allows them to fall-off easily. Like dryness, even oiliness in scalp is also responsible for causing lose grip over hairs and is one of the common causes of hair loss.
People eating diet which does not contain proper nutrition or which slows down metabolism is also one of the prominent causes of hair loss. Ageing is a natural process which brings hair-fall and formation of bald spots. But proper care of hairs can prevent bald spots for a longer period.
External stressors deteriorate flexibility of hairs and make them brittle and dry. When hairs are brittle, these break easily and also grow slowly and these also have split ends which make them look rough. Thinning of hairs is another problem which occurs due to poor health of scalp, insufficient nutrition from hair-follicles and hormonal changes.
For more on hair care, check out:
Homemade Papaya Hair Mask Recipe
Hibiscus Hair Masks For Beautiful and Silky Hair
Women during premenopausal phase experience thinning of hairs and lesser density on head. Thin hairs fall-off easily and it is one of the major causes of hair loss. Use of harsh shampoos, creams and cosmetic gels causes dryness in scalp and deteriorates health of hairs. Too much hair drying, use of dyes, hair perming and use of scented oils also cause scalp dryness and deteriorate hair health to promote their loss at rapid pace. Certain treatments like chemotherapy and medications are also the major causes of hair loss.
Ayurvedic Herbal Hair Fall Control Oil
Hylix lotion is the most effective and trusted herbal hair fall control oil. This oil has varied herbs as ingredients which control hair loss effectively in people of all ages. This herbal hair fall control oil treats conditions of dry and oily scalp in a short time. It keeps scalp healthily moisturized and prevents dandruff, flaking of scalp and dryness.
It also prevents it from becoming too oily to maintain its firm grip over hair base. This herbal hair fall control oil opens up blocked scalp pores which prevent and reduce hair growth. Higher hair growth rate helps to maintain hair density and prevent formation of bald spots. Herbal hair loss control oil keeps hair flexible and soft and also speeds up their growth.
This Ayurvedic hair oil treats infections over scalp which reduces hair growth and also causes bald spots by promoting rapid hair loss over a particular area. Hylix lotion is Ayurvedic hair oil which possesses special properties to stimulate hair follicles to produce healthy hairs faster.
It keeps hair follicles free from infections and other harmful compounds and increases nutritional supply for growth of healthy hairs which stay over head for longer duration. Herbal hair fall control oil helps in producing thicker hairs. Thickness of hairs prevents brittleness, dryness and roughness and keeps them soft and long.
Hylix Ayurvedic Hair Oil
Ayurvedic hair oil with its nourishing properties protects hairs from premature greying and maintains their natural shade for longer period. Some of the herbs used in this herbal hair fall control oil seep into scalp and open blocked capillaries. When capillaries are open, these provide nutrition and oxygen to cells of scalp and improve its health.
Healthy scalp can withstand strain caused by harsh environmental conditions, shampoos and other activities employed for styling. Ability to maintain optimum nutritional supply to cells makes this Ayurvedic hair oil effective in treating the problem of hair fall in menopausal women and elderly males as well.
Hylix lotion Ayurvedic hair oil is not only amazingly beneficial in treating hair fall problem but by opening scalp pores and stimulating hair follicles, it even covers up bald spots and makes a person look younger by increasing density of hairs. Use of this oil makes hairs easy to style and maintain.
It keeps hair soft, bouncy, shiny, thick and long. It saves hard-earned money which people spend in expensive salons and parlours to protect hairs from falling-off. This oil is beneficial for people of all the ages and its regular use keeps scalp healthy to prevent problem of hair fall in future as well.
Buy Hylix Ayurvedic Hair Care Oil to Prevent Hair Loss and Dandruff.
You may like reading:
Banana Deep Hair Conditioner Recipes for Silky Hairs
Aloe Vera Masks For Skin And Hair