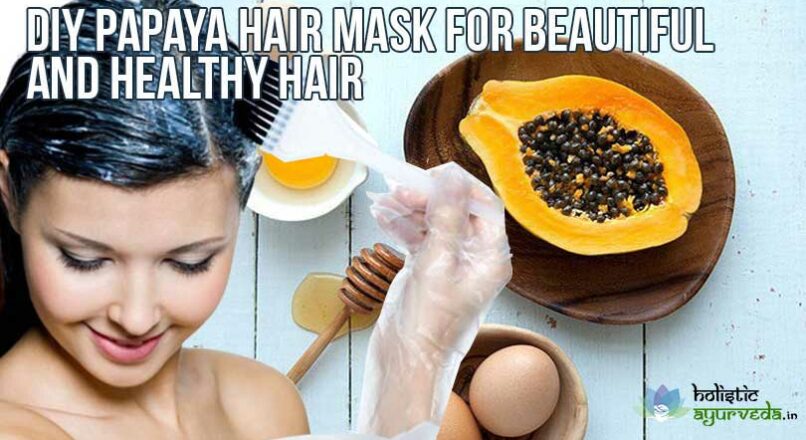 Homemade Papaya Hair Mask Recipe
Natural Homemade Papaya Hair Mask Recipe
Papaya is rich in fibre and is popularly used to keep metabolism upbeat. There are many other benefits of this fruit and is used commonly for treating skin and hair problems as well. It is rich in antioxidants and possesses powerful content of beta-carotene. It is also good source of folic acid which cleanses skin and scalp and makes it very useful ingredient for packs applied over face or head. Like skin scalp too get dry or oily, many people have oily or dry scalp genetically, dryness or oiliness in scalp is actually referred as oily or dry hair problem.
The excess oil or scarcity of oil glands in scalp cause dryness or oiliness and pose problems in styling and maintaining hair. Homemade papaya hair mask is very reliable way to keep hair density higher and maintain health of strands. Dryness in scalp can occur easily as most of the people are exposed to pollution in one or other way.
Air contains mixture of metals and gases which can get accumulated over scalp and harm hair health by making them dry, water also contains harmful acids and chemicals used for purification which are hazardous for scalp. Above all these harsh chemicals present in shampoos cause most of the trouble. People use these shampoos liberally to gain healthy hair but actually opposite happens because of harsh chemicals and salts used in these. Along with all these stressors, dry air and harsh weather conditions incessantly strain scalp and hair health and cause damages.
To maintain hair healthy, protect them from dandruff, premature greying and falling off one need to take proper care of them through natural means. Homemade papaya hair mask is one such solution which keeps a person scot-free from all these hair problems.
For more on hair care, check out:
Homemade Onion Juice and Honey Hair Loss Treatment
Homemade Banana Deep Hair Conditioner Recipes for Silky Hairs
Homemade Papaya Hair Mask Recipe

Papaya
Virgin olive oil
Honey
Homemade papaya hair mask is not a fuss, it is easy to prepare and use, and works for all types of scalp and hair. Even people with oily scalp and hair can use it prevent greasy and sticky hair and from other skin conditions. To make papaya hair mask for healthy hair all you need is one medium-sized ripe papaya fruit. Peel it off and remove all the black seeds inside it. Cut it into half and dice one half of the fruit. You will also need extra virgin olive oil and honey.
Take one tablespoon of honey and two tablespoons of olive oil. Now put papaya pieces, honey and olive oil in a blender and blend to get a thick even paste. If you are having too dry scalp or hair, add little more olive oil for nourishing scalp.
Wash your hair first, you can wash them with shampoo if these are dirty and remove layer of oil or sweat sticking over scalp properly. Rinse all the shampoo out from hair and scalp completely, do not wipe the hair, just remove excess water but keep them damp. Now apply homemade papaya hair mask evenly covering entire scalp and hair from root to tip. Apply thoroughly over hair and particularly areas affected with split ends or dryness. Leave the mask for 30 minutes, you can wear a power cap or cover head with a towel to prevent mask from falling off.
After 30 minutes wash off with tepid water, do not use warm or lukewarm water as it will harm the effects. Maintain regularity in using papaya hair mask for healthy hair.
The nutrition provided by papaya improves secretion of oil from scalp but it does not make it greasy, even people with oily scalp and hair can use this for preventing their hair density from diminishing. Papaya is natural moisturizer and it works in far better way than cosmetic moisturizers. People staying outdoors most of the time or travelling too much strain their scalp and hair many times more than other people. The change of water, exposure to sun and air and weather makes scalp rough and gradually hair become dry.
Dryness in scalp leads to problems like chronic dandruff which causes looseness in grip of scalp over hair and allows them to fall off. Dry scalp and hairs tend to fall-off quickly and people mostly have bald spots.
Women with long hair can have rough and dull looking hair due to dryness and face split ends. Such hairs are impossible to style and make a person look un-presentable. People often try to oil their scalp and hair too much to overcome dryness, the fat content of oil cannot protect hair from drying, scalp needs proper nourishment to maintain strands soft and smooth. Papaya hair mask for healthy hair provides that nutrition and protect hair from getting dry, it speeds-up hair growth and keep scalp and hair healthily moisturized, shiny and silky. Avoid using shampoos which are too harsh use herbal shampoos while treating hair with
papaya hair mask.
For more on hair care, check out:
Homemade Hibiscus Hair Masks For Beautiful and Silky Hair
Aloe Vera Masks For Skin And Hair, Homemade Aloe Vera Mask
You May Like…