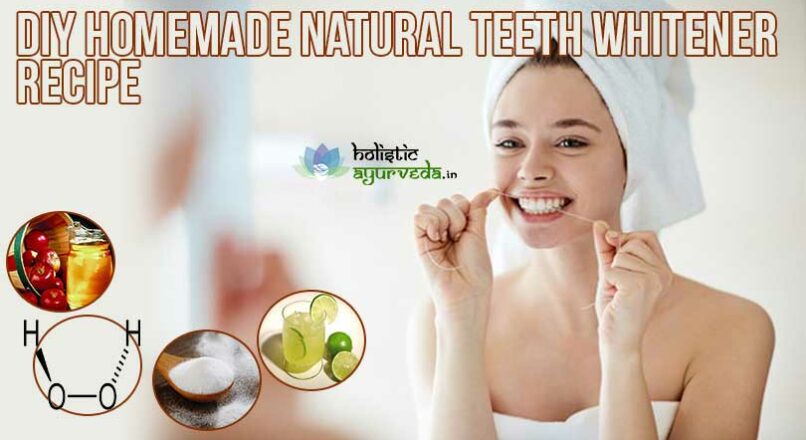 Natural Teeth Whitener Recipes for Sparkling Teeth
Natural Homemade Teeth Whitener Recipes
Pale, dull and yellowish dentures are not considered as unsightly and these are signs of poor care of health and unclean mouth as well. The yellow tinge over teeth is caused by deposition of chemicals produced by food particles which get stuck between teeth and by bacteria which is thriving in dentures. Higher accumulation of acids and chemicals in mouth and bacterial presence is threat to health and also paves way for further teeth problems like gums diseases, cavities loss of enamel and tooth decay.
People pay bunch of money to dentists and buy expensive products to get shiny white teeth. Some may get temporary benefits but most do not see any long-lasting results. The reason is that taking care of dentures is regular effort you cannot get them cleaned once and relax assuming they will stay white forever.
Regular cleaning and use of products which make teeth white can cause over-sensitivity to make eating and drinking difficult and painful. Homemade natural teeth whitener is effective and safe and works without causing any damage to dentures or gums. Here we will describe few easy and effective teeth whitener recipes which you can use to get a natural paste for sparkling white pearly teeth at almost no cost and without any risk.
You may like reading:
Homemade Mouth Freshener Recipes
Homemade Minty Clove Mouthwash Recipe
Homemade Natural Teeth Whitener Recipes
Lemon Juice and Baking Soda

If you do not want to use hydrogen peroxide for any reason you can try lemon juice for homemade natural teeth whitener. Add baking soda and lemon juice to form a paste. Mix them in the quantity which gives a smooth thick paste. You can use this in two ways. You can brush your teeth with paste by taking it in your toothbrush or you can add it to your toothpaste. The first method is better and provides better shine to dentures. Brush your teeth with baking soda and lemon paste and cover all the areas thoroughly swish the juice all around mouth and rinse off with water later, and brush with your regular toothpaste so that acidic natural of lemon does not damage enamel in any way.
Hydrogen Peroxide and Baking Soda
You can try a simple recipe for gaining shiny white teeth. Add hydrogen peroxide and baking soda to get a paste. It is better that you make this paste just in time and do not keep it stored, baking soda and hydrogen peroxide both can lose their fizz quickly which can reduce efficacy of the paste. Add one part of hydrogen peroxide and two parts of baking soda to get a paste. Make sure that paste is not gritty and is smooth. Collect the paste with toothbrush and clean your teeth thoroughly with it. Do not spit the paste instantly hold it for few seconds after brushing and later rinse it off. You can do this after brushing your teeth with your regular toothpaste. It will remove yellowish tinge and will bring shinier and whiter teeth.
Strawberries and Baking Soda

Another teeth whitener recipe is provided by strawberries. This delicious fruit possess properties which are very safe and effective for gaining pearly white teeth in a short time. Take 2 to 3 whole strawberries and mash their pulp to form a paste. Add a pinch of sea salt to the paste and a teaspoon of baking soda. Collect entire content in a bowl and pick it up with toothbrush and clean teeth thoroughly covering all the areas. Leave it in mouth for few seconds after you have used entire mixture and rinse it off. Repeat this few times in a week every alternate day or regularly for few weeks to get pearly white healthy teeth.
Apple Cider Vinegar
Apple cider vinegar is highly acidic and it also provides an effective homemade natural teeth whitener. Apple cider vinegar works excellently in conjunction with baking soda and it also works as every useful mouthwash after brushing your teeth with toothpaste. But it is advisable that you either use as part of teeth whitener or as mouthwash but not as both at the same time, higher acidic nature of this agent can be damaging for enamel if you use it as paste and also as mouthwash simultaneously. Make a paste by adding ACV and baking soda in sufficient quantity and brush your teeth with the mixture. Rinse off and brush with your regular toothpaste later. This is simple and easy to use teeth whitener recipe for sparkling white teeth and healthy gums.
Coconut Oil and Peppermint Leaves

You can prepare another paste beforehand and even keep it stored for future use. This makes it very convenient to use. Take coconut oil in melted for and add few crushed peppermint leaves to it, mix the both of them well and store it in a cool dry place so that coconut regains its semi-solid form. In the morning collect the mixture with a toothbrush and clean entire set of dentures with it. It will clear bacterial and will improve gum health and also cleans yellowish tinge over teeth. It also refreshes your breath and keeps it smelling sweet all day long.