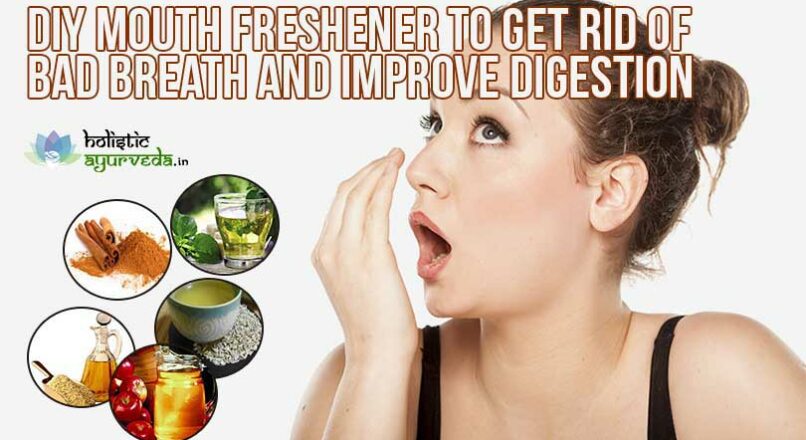 Homemade Mouth Freshener Recipes
Make Mouth Fresheners at Home to Get Rid of Bad Breath
Some people have bad breath, if they are close give torrid time and if they speak or laugh practically massacre everyone around. They become famous moment they step in any company. But no one would like to become like them. No matter how much we hate bad breath but everyone is at high risk of developing one. Dentures are bound to shed in some early or later, damaged dentures, pyorrhoea, bacterial growth, bleeding gums, hyperacidity, flatulence and indigestion are major causes of bad breath.
People fond of eating certain kinds of foods like garlic, onion etc., have bad breath due to these foods. Even if one brushes his or her teeth regularly there appears no difference in intensity of foul smell. Many people try regular gargling and rinse mouth every couple of hours but even these measures help a little.
The reasons for bad breath as mentioned are either related to health of dentures or metabolism. Brushing, gargling or rinsing mouth can affect these issues a little. Homemade mouth fresheners are better choice to control pungent smell from mouth and also for keeping mouth clean and healthy.
Food particles sticking in mouth allow bacterial growth, later this bacteria can form cavities in dentures which may not be evident from outside, one needs proper mouth freshener to get rid of bad breath caused by bacteria and keep his breath smelling fresh all day long. Here you can find recipe for the most effective homemade mouth freshener.
You may like reading:
Homemade Minty Clove Mouthwash Recipe
Ayurvedic Medicines to Improve Digestion
Homemade Mouth Freshener Recipes

Ingredients
Apple Cider Vinegar
Cloves
Dried Eucalyptus Leaves
Peppermint Leaves
Cinnamon Stick
Xylitol Powder
To prepare mouth freshener to get rid of bad breath take 2 cups of boiled or distilled water, one tablespoon each of apple cider vinegar, cloves, dried eucalyptus leaves and peppermint leaves. You will also need one cinnamon stick and one teaspoon of xylitol powder for making the mouth freshener little sweet in taste. Now with these ingredients you can prepare mouth freshener in two flavours. But you will need to prepare them separately.
Take two cups of water, for cinnamon-clove flavour add cinnamon and cloves to water and stir gently, let the mixture simmer over a low flame till water is reduced down to one cup. Strain the mixture and let the mixture cool down completely. Add apple cider vinegar and zylitol and store it in a spray bottle. Spray directly in mouth as and when needed.
For peppermint-eucalyptus flavour add dried eucalyptus and peppermint leaves in place of cinnamon and clove and go ahead with same steps. You will have two different flavours of mouth freshener which you can use as per your wish to keep bad breath away and mouth clean and free from smell-causing agents.
Ayurvedic Homemade Mouth Fresheners
In Ayurveda, mouth fresheners are called as 'Mukhawas'. Here we let you know a simple recipe to prepare homemade mouth freshener which is not only excellent for fresh breath but also excellent for improving metabolism. Ingredient list of Ayurvedic Mukhawas includes half cup of fennel seeds, one-fourth cup of dried sesame seeds, rose petal jam preferably homemade, sugar coated fennel seeds, 2 teaspoons of cinnamon powder and tutti frutti.
Dry roast sesame and fennel seeds separately, let them cool down and add to rose petal jam evenly. Add cinnamon powder and tutti frutti and keep it stored in an air tight container. Consume in small quantities after meals and few times during the day to keep mouth fresh and digestion upbeat.
Fennel seeds as Natural Mouth Fresheners

There are many things which you can include as part of your after-diet to keep your breath away from smelly. Fennel seeds are used all over the world popularly as aids to suppress bad breath and improve metabolism. A little amount of seeds few times in a day can suppress foul smell.
Apple Cider Vinegar and Warm Water
Rinsing mouth with a mixture of apple cider vinegar and warm water helps in eliminating bacteria and keeps mouth clean away from bad breath. You can also rinse-off your mouth after meals or between meals to keep breath fresh. Add some salt to lukewarm water and gargle and rinse to get rid of food particles and bacteria stuck in the mouth.
Guava and Pineapple
Eating few pieces of guava or pineapple after meals is good way to get nutrition and also fresh breath. These fruits wipe-off dentures and create an environment which knock bacterial inactive.
Green, Sage and Peppermint Tea

Green, sage and peppermint tea are also good ways and work as homemade mouth freshener. You can drink and gargle and rinse your mouth during the day to keep your breath smelling sweet.
One should take care of foods and drinks in order to keep breath fresh smelling and dentures and digestion healthy. Excessive tea and coffee intake is one of the commonest causes of bad breath. These stick in mouth and promote stale smell and also form stains over teeth. Garlic, onion and similar kinds of foods too are smelly and cause bad breath. Lesser water intake or staying on an empty stomach for too long are also causes of bad breath which can be repelling.
You may like reading:
Natural Home Remedies for Acidity
You May Like…