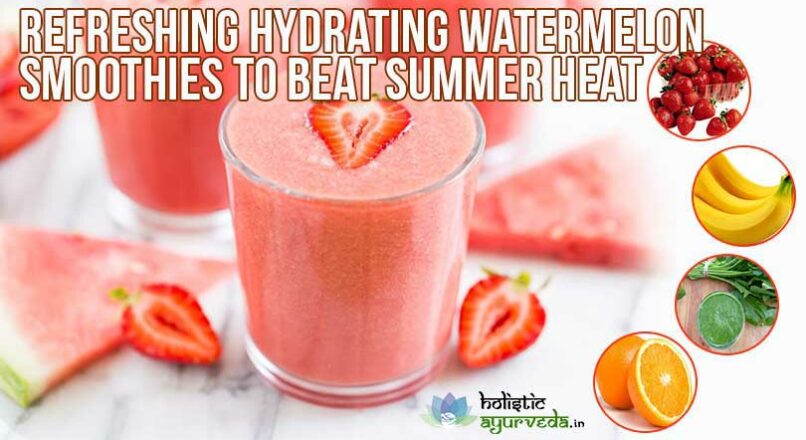 Refreshing Watermelon Smoothies Recipes
Natural Refreshing Watermelon Smoothies Recipes
Watermelon is packed with nutrition and energy producing content. This fruit is seasonal and the best quality is available in summer. Chilled watermelon smoothies are the best drinks to overcome exhaustion and dehydration due to heat in summer season. Watermelons are loaded with vitamin C and beta carotene. Body metabolizes and converts beta carotene into vitamin A which makes this fruit beneficial for health in many ways. Experts state that watermelon is nature's answer to Viagra. This fruit has potency to resolve disorders related to male reproductive system and enhance libido and drive for lovemaking. This is richer source of lycopene than tomatoes. Regular use of this fruit provides protection from prostate cancer. There are two special ingredients of watermelon, citrulline and arginine.
Arginine boosts nitric oxide in body which relaxes blood vessels and also dilates them to promote blood flow. Males suffering with problem of impotency gain immense benefits by using this fruit as part of daily diet. Citrulline has positive impact over health by improving immune system, fat metabolism, sugar control and improves heart health. Refreshing and hydrating watermelon smoothies are not only reenergizing but provide power punch of nutrition and support health of an individual as well. Here you will find few easy and delicious recipes to prepare watermelon smoothies to beat the summer heat and improve health.
You may like reading:
Homemade Healthy Juices and Smoothies For Lowering Cholesterol
Homemade Healthy Juices And Smoothies To Curb Arthritis
Refreshing Watermelon Smoothies Recipes
Watermelon, Banana and Spinach

Take half of watermelon and deseed it, cut out the inner pulp and cut it into small pieces, collect 2 cups full of watermelon pieces. Peel off one ripe banana and slice its pulp and collect two cups of baby spinach. Keep some water with you if you may need. Put all the ingredients except water in the blender and process till you get a smooth paste. If paste is having thick consistency, add some water to make it bit thin. Add few ice cubes and drink it as delicious watermelon smoothies to beat the summer heat.
Apple, Pear and Watermelon

You can prepare watermelon smoothies to beat the summer heat by using apple and pear with the fruit. Take two cups of deseeded pieces of watermelon, cut one apple and one pear into small pieces and take 2 cups of baby spinach leaves. Add all these ingredients to a blender and process to get a smooth paste, add some water or ice cubes to make it thin if it is thick in consistency. This is nutritious, delicious and energizing drink for overcoming heat exhaustion during summers.
Watermelon and Strawberry
Strawberry too taste very good with watermelon and improve nutritional value of the drink. Take two cups full of watermelon pieces deseeded, one cup of whole strawberries and two cups of baby spinach leaves and half cup of vine tomato. Put all the ingredients in the blender and process it for few minutes till you get a smooth paste. If it is thick, you can add some water else take it out in the glass, add few ice cubes and consume. This is another recipe for refreshing and hydrating watermelon smoothie.
Pear, Orange and Watermelon

If you want a different taste replace pear with orange. This will provide higher dose of vitamin C and will improve taste of the drink. Let all the other ingredients same and simply add peeled and deseeded piece of orange to the recipe in place of pear. You can also try another recipe for refreshing and hydrating watermelon smoothie by replacing apple with nothing and orange with pear. This too provides all the goodness of watermelon and pear and spinach, and refreshes mind and body by providing burst of energy.
Always make sure that you buy organic watermelons. Out of top 100 foods infamous for having pesticide residue watermelon rank 26, so chances of consuming traces of hazardous pesticides is very high with watermelon and one can be sure of safety only by using organic variety of these fruits. If you are in doubt whether fruit is organic or not do not include the rind to avoid pesticides from getting into the system. Do not purchase halved or quartered watermelon. Moment these fruits are cut they start losing nutrition. Buy full watermelon and use it as early as possible.
Watermelon already has high water content so whether you try these recipes or any other does not use water as long as it is very necessary. Even if you are consuming a smoothie which is as thick in consistency as cream you will get enough quantity of water. Frequent dehydration is common during summers. Even those who take care of their water intake avoid dehydration always. Due to lesser water level in blood body is unable to excrete toxins which it has filtered from blood out of the system and allows toxin accumulation.
These toxins find their way back into blood and harm health. Watermelon by its natural properties helps in eliminating toxins from the organs and protects health. It is very beneficial fruit and smoothies are tasty and even more beneficial ways to use this.
You may like reading:
Homemade Natural Fat Burning Detox Smoothies
Homemade Delicious Weight Loss Smoothies To Get Perfect Body
You May Like…