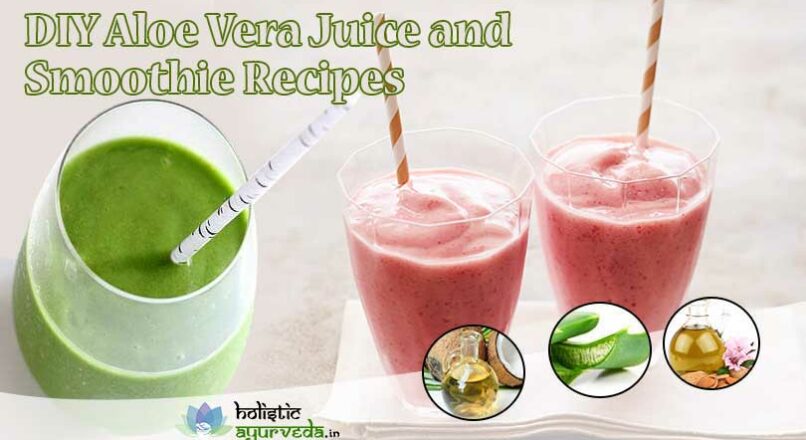 DIY Homemade Aloe Vera Juice And Smoothie Recipes

There are many health benefits of Aloe Vera juice. It is available in most of the grocery and shopping stores but drinking a packed or canned juice is surely going to supplement some preservatives and artificially derived substances which many times work as anti-nutrition and nullify good effects of the drink. Secondly you are never sure of basic quality of ingredients in a packed drink. So instead of taking risk of wasting money and health it is better that you drink homemade Aloe Vera smoothies to gain amazing health benefits.
Health Benefits Of Aloe Vera Juice
Aloe Vera contains compounds that help to heal and repair the skin when used externally. These also protect skin from stressors and prevent harmful effects of Sun and UV rays. When consumed internally it has similar effects over digestive tract. Aloe Vera decreases irritation and enhances healing and repair of ulcers in the stomach and intestines. It diffuses inflammation in irritable bowel syndrome, colitis and other inflammatory disorders of the digestive system. It also increases number of good bacteria in guts and speeds-up digestion and ensure complete removal of waste matter.
Aloe Vera contains anti-bacterial, anti-viral and anti-fungal properties that aid the immune system to cleanse body and blood from toxins and pathogens. It is also very useful for handling disorders like rheumatism and arthritis related to immune system malfunction or inflammation in joint organs.
Aloe Vera is heart friendly. It has potency to reduce cholesterol level and also removes blockages in arteries caused by plaque deposition. It improves clot mechanism and maintains healthy and smooth blood circulation to keep heart healthy and strong. The Aloe Vera juice recipes are simple and easy. These can be used even in daily rush and one can gain immense benefits of Aloe Vera drinks regularly.
You may like reading:
Coconut Oil And Aloe Vera Gel Skin Moisturizer Recipes
Aloe Vera Masks For Skin And Hair
Homemade Aloe Vera Juice And Smoothie Recipes
Here is one awesome recipe for homemade Aloe Vera smoothie. To prepare the smoothie first collect ingredients in the given quantity.

1 cup almond or coconut milk
half cup of Aloe Vera gel
half cup fresh or frozen blueberries
half cup fresh or frozen mango cubes
half tablespoon coconut oil
1 tablespoon of fresh Holy basil leaves and honey.
1 tablespoon each of coconut flakes flax seeds or chia seeds and protein powder of your choice.
Now put all the ingredients in a blender and process until you get a smooth even paste. Consume this homemade Aloe Vera smoothie for amazing health benefits.
There are few simple Aloe Vera juice recipes too which do not need a list of ingredients and provide good benefits. Cut a leaf of Aloe Vera and extract its gel out. Collect two tablespoons of gel and put it in a blender. Add one tablespoon of white vinegar, one cup of water and one cup of any citrus fruit juice like orange or grapefruit. Blend for few minutes and take this tasty drink which is loaded with health benefits.
Aloe Vera Juice Recipes with Honey
Another in the list of Aloe Vera juice recipes requires honey along with fresh Aloe Vera gel. You can make it and store in refrigerator or you can make it daily. If you want to keep it stored you will need to add some alcohol to it. If you do not want to consume alcohol then prepare it just enough for one day. You will need three teaspoons in a day.
Take Aloe Vera gel in sufficient quantity and blend or whisk it to make it smooth. Add equal quantity of honey and mix them well. If you are going to store add 30 ml of vodka to the mixture and stir again else just keep the drink in fridge. Consume one teaspoon 20 minutes before every meal three times in a day for straight 10 days. After 10 days give it a break of 10 days and start again. It works amazingly well for health and looks both.
You can prepare another delicious drink by using Aloe Vera which will also work as efficient detoxifying drink. Take Aloe Vera leaf and collect two tablespoons of gel out. Put the gel in a blender and add one cup of pineapple cubes preferably fresh. Add one cup of filtered water and honey as per your taste. Blend all the ingredients and consume the drink. It is healthy and tasty drink for cleansing internal system and diffusing inflammation in internal organs.
Aloe Vera Smoothies with Strawberries

one-forth cup of Aloe Vera gel
one and a half cup of strawberries fresh
one tablespoon of lemon juice
half cup tablespoon of maple syrup
You can have another tasty Aloe Vera smoothie by adding strawberries to ingredients list. Collect one-forth cup of Aloe Vera gel, one and a half cup of strawberries fresh or frozen and one tablespoon of lemon juice. One cup of water filtered and one or one and a half cup tablespoon of maple syrup. Add all the ingredients to a blender and process, collect the resultant liquid and drink. It is very tasty and healthy drink loaded with nutrition and powerful antioxidants to rejuvenate health. You can store Aloe Vera gel in refrigerator for one week, if you store the gel it will take out daily trouble of cutting leaves and extracting gel for smoothies.
You may like reading:
Homemade Healthy Juices And Smoothies To Curb Arthritis
Easy to Make Juices to Get Glowing Skin
You May Like…