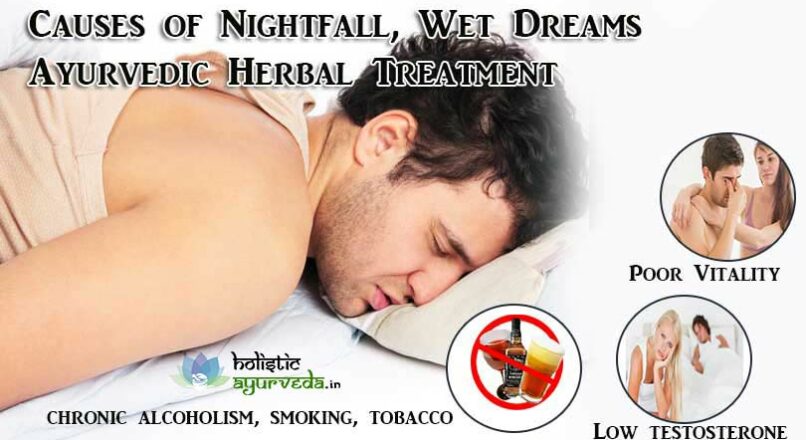 Causes Of Nightfall, Wet Dreams Ayurvedic Herbal Treatment
Major Causes of Nightfall
Age is one of the major causes of nightfall. During young age when body is experiencing hormonal surge, which brings puberty, cause wet dreams in young boys. On the other hand at later age, when person is weak, slight excitement can bring wet dreams. In between young and old age, there are numerous other causes of nightfall which can frustrate a male. Males running low on testosterone hormone levels are easy victims of this disorder and numerous others. Low testosterone hormone causes weakness in nerves of male genital region. These nerves play many vital roles amongst which one is to keep semen locked during normal and aroused state. But nerves not getting regular energy flow become lethargic and inactive and allow semen to pass out easily. These are basic causes of nightfall.
Apart from low testosterone levels, males running low on physical energy and having poor vitality are also victims of nightfall. When body is unable to supply energy to nerves, it causes frequent night discharge. Males suffering with disorders which are damaging and straining for nerves like diabetes also cause wet dream frequently. Certain medicines like sedatives and pain-killers on regular and prolonged use also affect nerve functions negatively and cause wet dreams. Poor habits like chronic alcoholism, smoking, tobacco use, drugs, etc., are severe on nerves and deplete their functions to raise issues like premature ejaculation and wet dreams in males. Amongst benign causes of nightfall, long term abstinence from sex, loss of bed partner, occasional episode of intense arousal during the day and too much intoxication are common.
Males who have been in habit of excessive hand-practice suffer with certain issues which can promote weaknesses and bring wet dreams. One of the major side effects of hand-practice is prostate gland problem. Excessive self-stimulation causes congestion or inflammation of prostate gland. Congestion allows semen to flow out on slight pressure applied during sleep. It can occur even during the day and allow seminal fluids to dribble out of male organ. Frequent loss of semen depletes its quality and lead to thinning of semen, which passes out easily during sleep while seeing an erotic dream or after excitement due to rubbing of bed sheet and pillows, etc. Inflammation of prostate gland is bacterial infection, which can increase numerous health issues, along with above specified causes of nightfall. Males by practicing self-stimulation damage nerves in their genital region. Damaged nerves are unable to check semen flow and allow it to pass out easily. These too are common causes of nightfall.
For more on nightfall, check out:
Causes Of Swapnadosh, Nightfall Ayurvedic Herbal Treatment
Ayurvedic Medicines for Nightfall
Ayurvedic Treatment for Wet Dreams
No Fall capsules are prolific herbal supplements, which provide fast and dependable ayurvedic treatment for wet dreams. These pills possess herbs which cover all the aspects and causes of nightfall problem and resolve them naturally for long-lasting relief. These pills possess aphrodisiac herbs which elevate level of testosterone hormone. This hormone rejuvenates entire male reproductive system and also re-energizes weak and lethargic nerves to provide quick herbal treatment for nightfall. Some of the herbs in this ayurvedic supplement for wet dreams are nutritive and enhance energy levels. These herbal remedies supplement minerals and improve a male's vitality.
Males running high on energy keep their reproductive system healthy and nerves stronger to stop nightfall. This herbal treatment for nightfall possesses herbs which are popular nervine tonics and improve their functions by repairing damaged ones and energizing lethargic nerves to improve entire nervous system of the body. These ayurvedic remedies to cure wet dreams reverse ill-effects of alcoholism, smoking, medicines and diseases on nerves and improve their functions.
Maha Rasayan and No Fall Capsules
Maha Rasayan and No Fall capsules provide herbal treatment for nightfall, which allows a male to recover from side effects of debilitating habits like self-stimulation. It regulates higher flow of blood towards male genital region to nourish and strengthen nerves and tissues of male organ. It maintains regular flow of energy and keeps them active and energized. This herbal treatment for nightfall also treats prostate problems effectively and clears congestion, bacterial infection and diffuse inflammation. This ayurvedic treatment for wet dreams also reverse enlargement of prostate gland caused by growing age or due to other reasons to prevent involuntary loss of semen.
Ayurvedic treatment for wet dreams improves mental health of a person as well. It helps a male in quitting habit of masturbation and also helps him to stay away from unnecessary arousals during the day which can bring nightfall. Herbal treatment for nightfall provides effective treatment for PE and ED and also increases a male's low libido by energizing reproductive system and nerves and by elevating level of testosterone hormone. Males gain renewed vitality and virility by using these supplements for nightfall. These supplements also improve quality and quantity of semen to maximize chances of male achieving fatherhood. These are purely herbal and can be used by male of any age to stop wet dreams naturally. These are fit to be used for prolonged duration without worrying about side effects.
Buy Herbal Remedies for Wet Dreams to Stop Excessive Nightfall in Men.
You may like reading:
Causes of Low Libido In Men and Male Sex Enhancer Pills
Ayurvedic Remedies For Low Sex Drive In Men, Libido Boosters
You May Like…